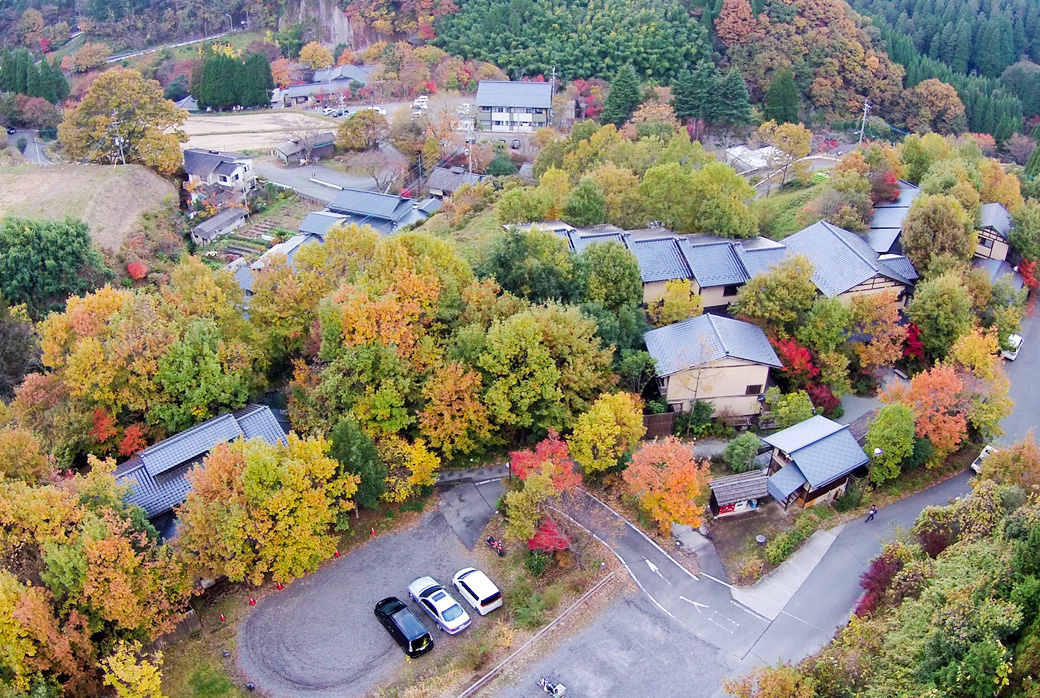 All rooms are separated
Private open-air onsen in all rooms
Cuisine Using Various Selected Ingredients of Kumamoto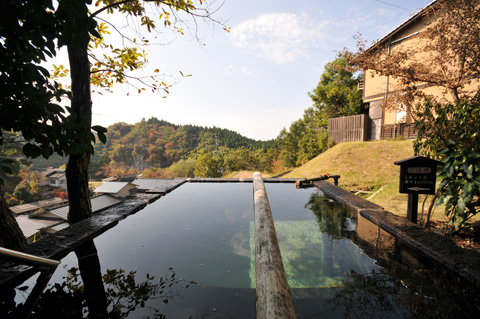 This is "Standing Bath".
The deepest hot spring in Japan.
It's called "Tachiyu".
Basic Information
| | |
| --- | --- |
| In/Out | 15:00/10:00 |
| Style of accommodation | Japanese room |
| Toilets | Western style & Toilet with shower |
| Meals available | Evening meal & breakfast |
| Number of rooms | 9 rooms |
| Capacity | 45 people |
| Smoking/Non-smoking | Smoking |
| English speaking ability | No |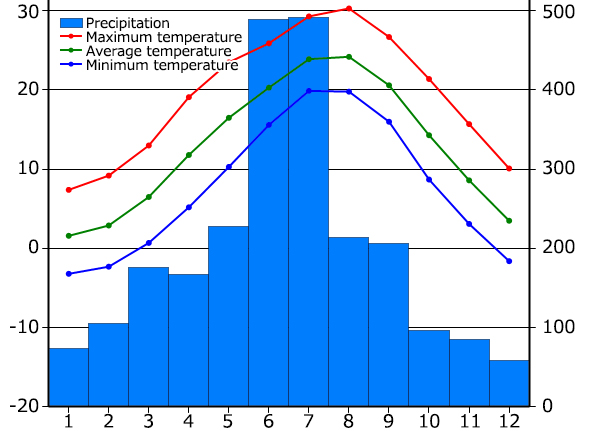 Kumamoto Prefecture Minamioguni of climate
( Temperature and precipitation )
Minamioguni annual average temperature : 12.9 ℃
annual precipitation : 2388.7 mm
statistics period : 1981-2010
Welcome to Ryokan Kono-Yu.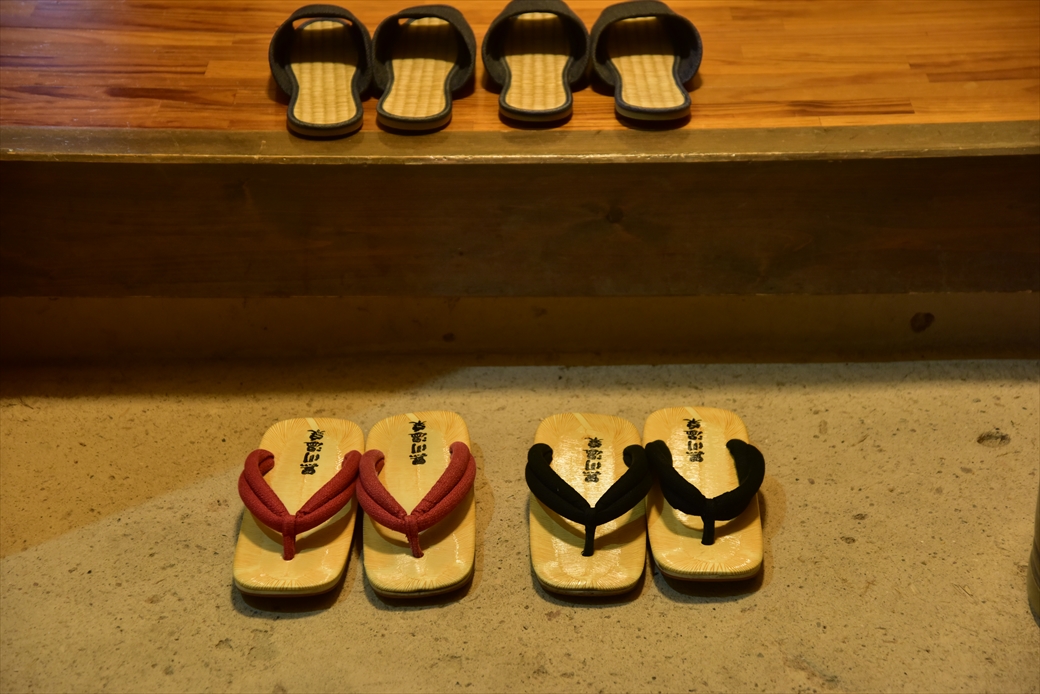 Japanese leather-soled sandals
Please take off your shoes within the hotel area.
When moving between facilities in the hotel, please use slippers.
When going out to the garden or the carpark in the hotel, please use "Setta"(Japanese leather-soled sandals).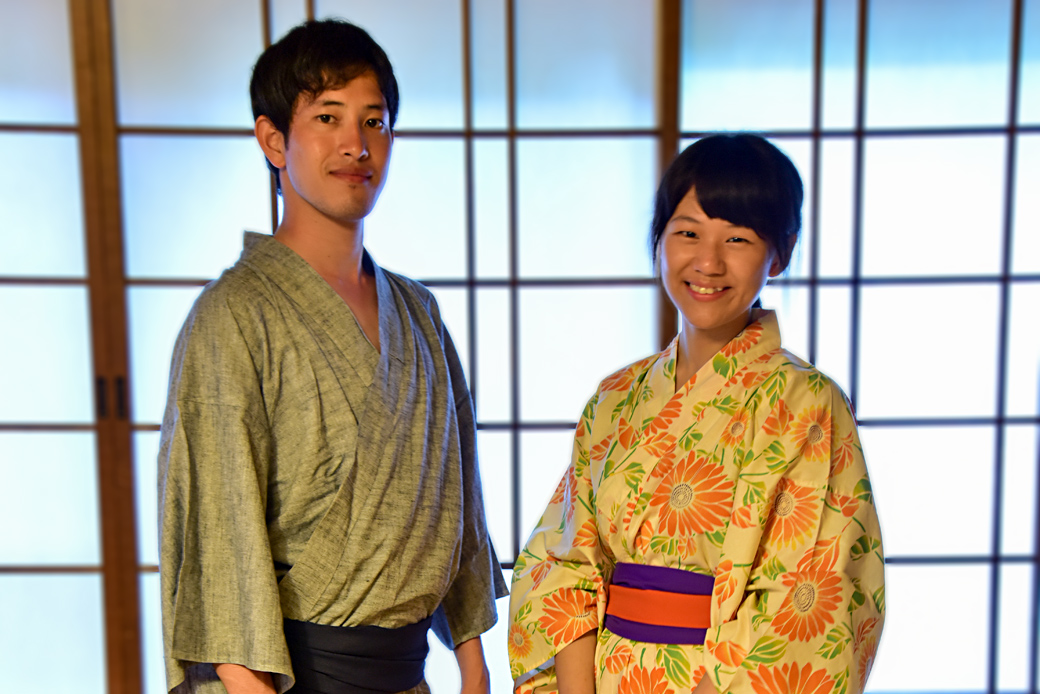 Yukata
You will find a yukata in the guest room.
Yukata is a kimono-style sleepwear.
You can also wear this to the public bath or to the public eating area.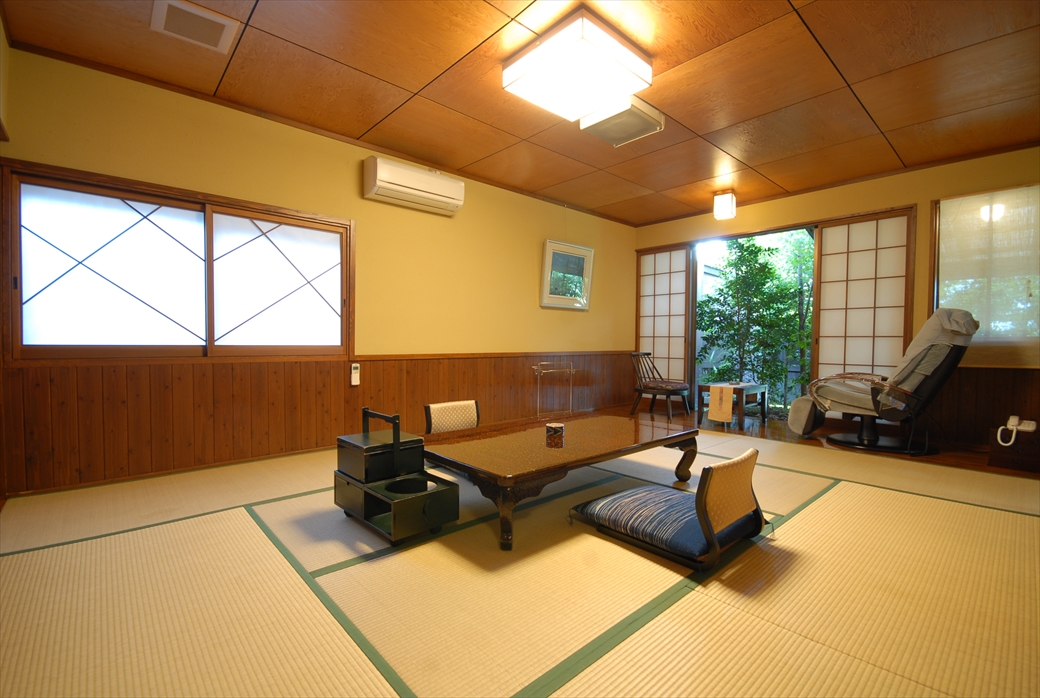 Tatami room
A tatami is a mat used to cover the floor in a Japanese room.
It's made of bundled straw and covered with tightly woven rushes called igusa.
Japanese sit down and lie directly on the tatami taking off their shoes here.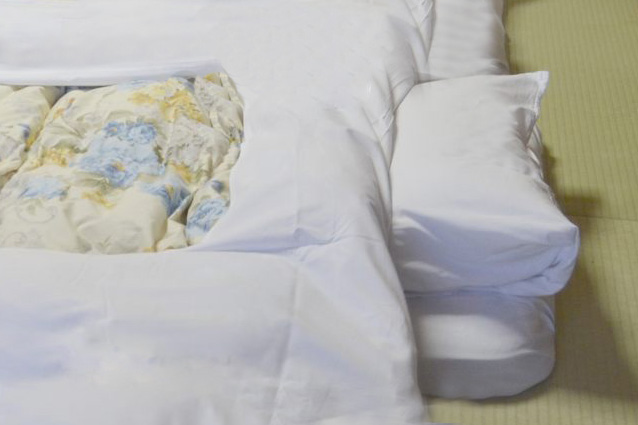 Futon
At night, you sleep in futon on the tatami floor except certain guest rooms.
The staff will spread out the futon on the tatami floor while you're having dinner at the restaurant.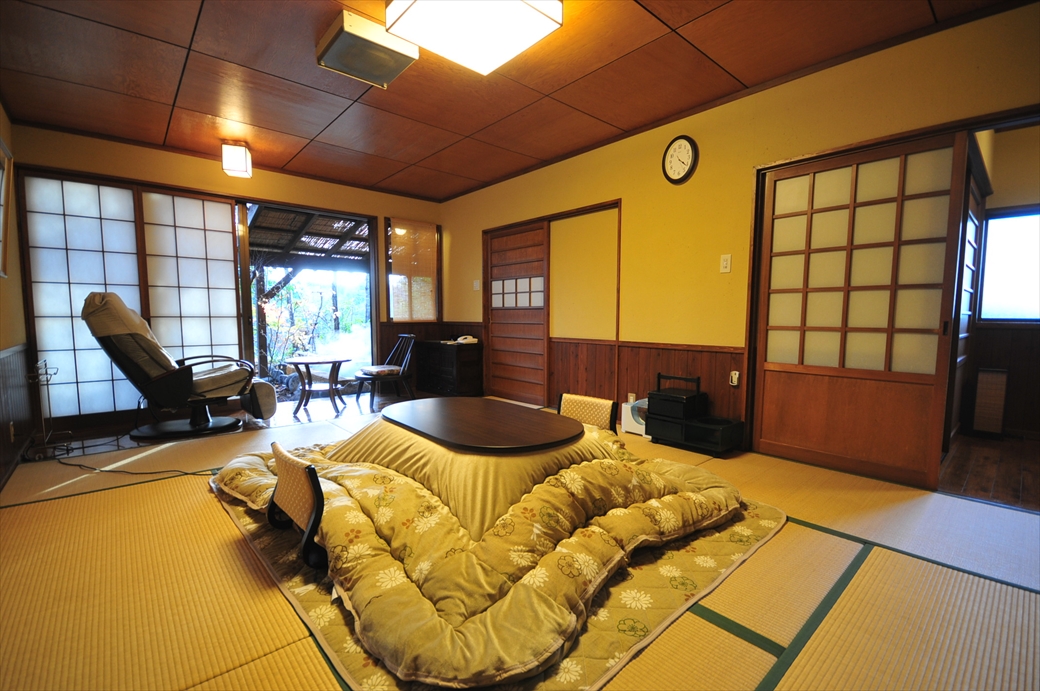 Kotatsu
【Winter Only】Kotatsu is a traditional heating appliances of Japan.
This is a low table with a heat source. Put the lower body under the blankets during use.
It's so comfortable that you don't want to leave once you have entered.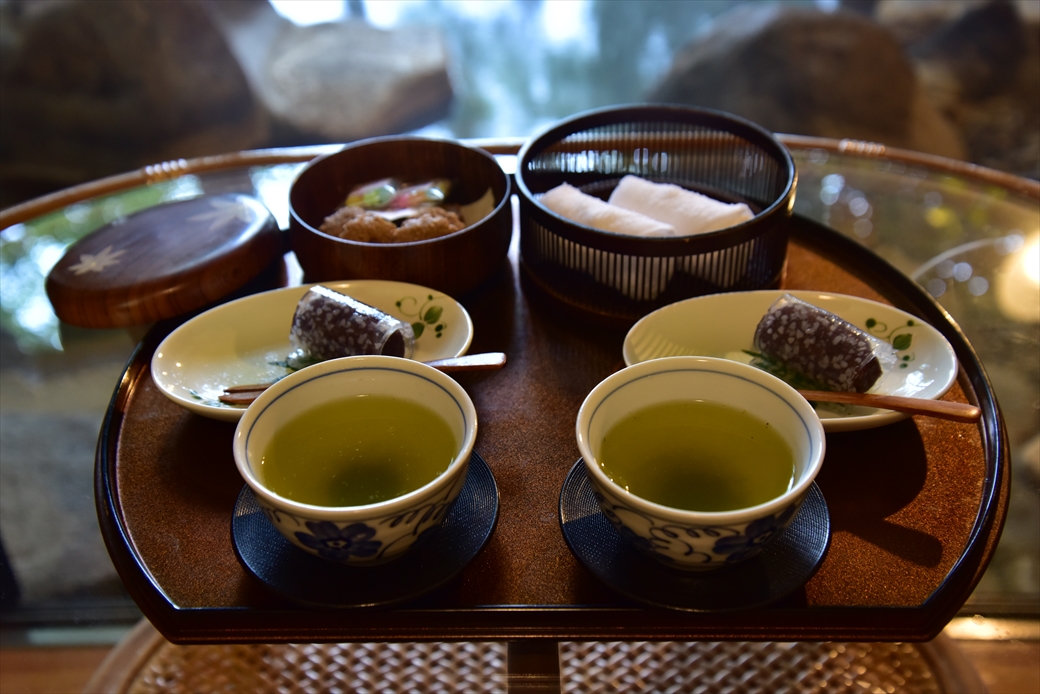 Japanese tea and snacks to go with tea
We'll serve you with Japanese green tea as a welcome drink upon your arrival.
Please also enjoy delicious Japanese confectionery together.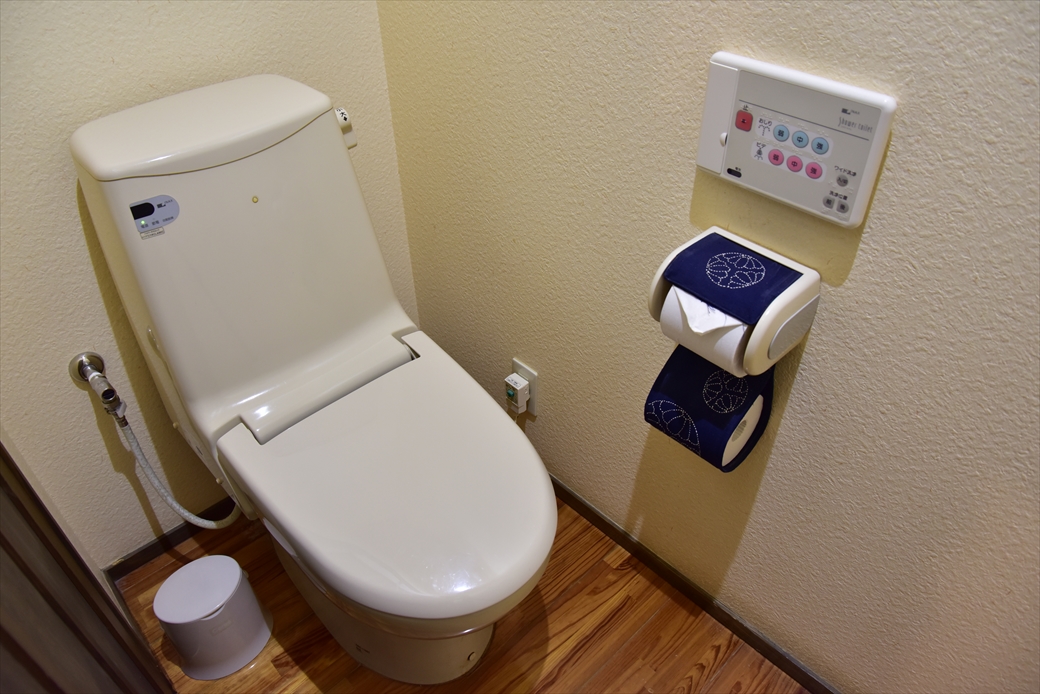 Toilet with shower
The Japanese have been using toilets with shower for over 30 years.
These toilets allow you to wash yourself with water of a comfortable temperature, and to dry yourself with breezy air.
These toilets are also equipped with heated seats and bidet.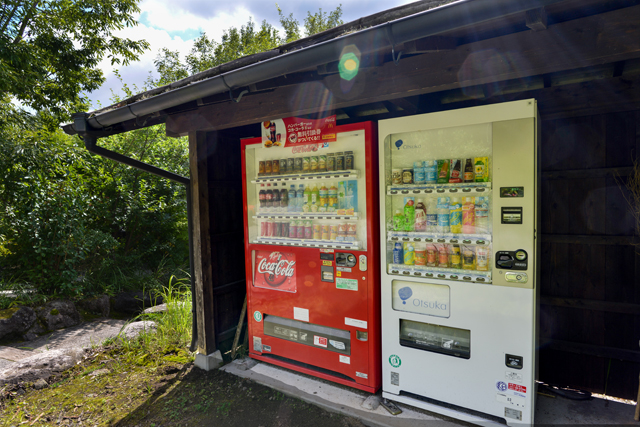 Automatic vending machine
A machine that gives out drinks you desired when coins or notes are inserted.

The Japanese have loved hot spring bathing for a long time.
As there are many volcanoes in Japan, there are many hot springs.
Hot spring bathing makes your body relax and heals your heart.
We use what was springing from the premises.
This hot spring is effective in skin beautifying.
You'll enjoy 100% Fresh Hot Spring Water.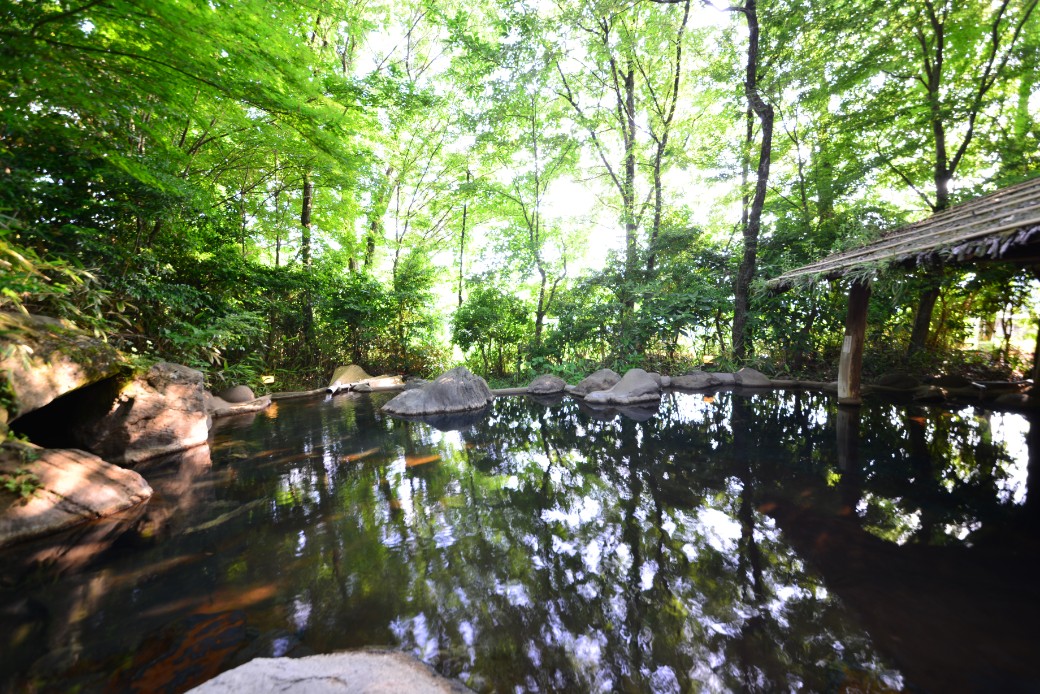 Public Open-Air bath
People take off all their clothes entering a Japanese hot spring.
Our ryokan is equipped with gender-segregated public indoor bath and open air hot spring bath.
When going to a public bath, please take a bath towel and a small towel for washing your body from the guest room.
Please take off all your clothes and enter the public bath only with a small towel.
First wash your body with soap and then rinse thoroughly before entering the bathtub.
Please do not soak your towel in the bathtub.
Dry yourself with a towel before going back to the dressing room.

Staying guests can use between 7:00 ~ 22:00.
Day trip guests can use between 8:30 ~ 21:00.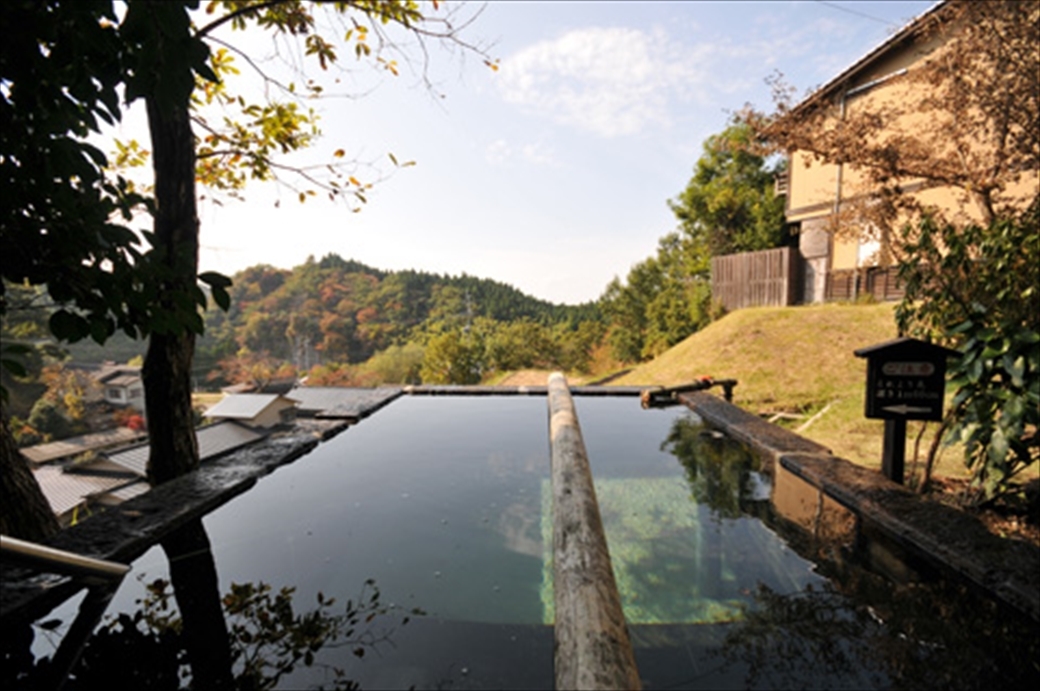 This is "Standing Bath".
The deepest hot spring in Japan.
It's called "Tachiyu".
This is one of the public open-air bath.
Here is a hot spring that you can't enter unless you stand.
Because it is as deep as 1.62m.
Please be careful when bathing with your child.
※The depth of women bath is 1.32m.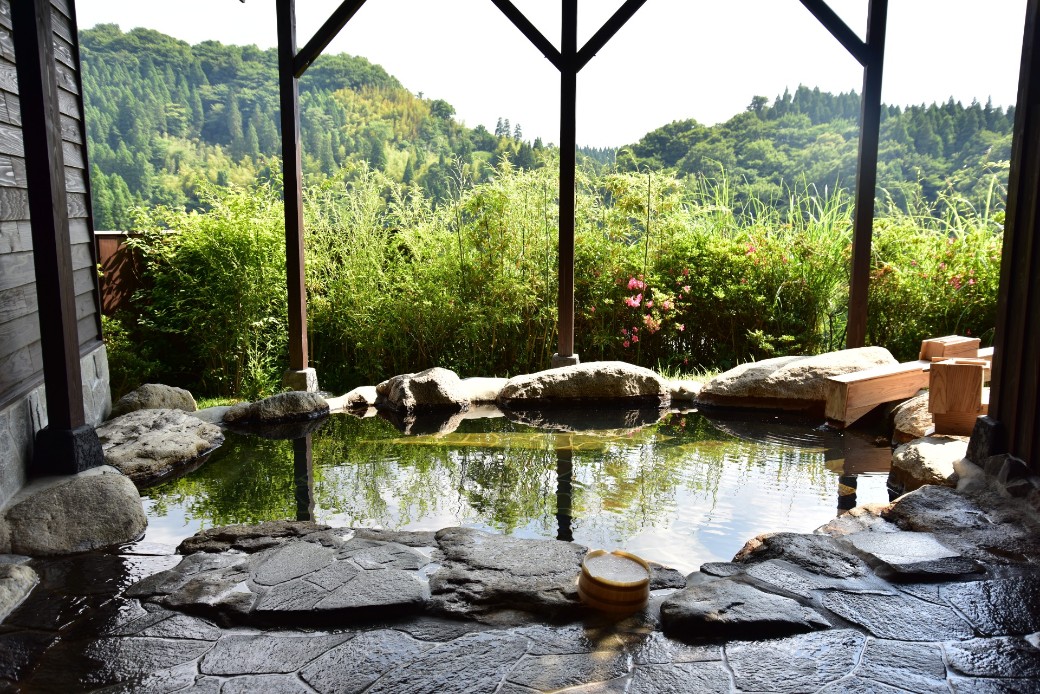 Private Onsen
(Staying guests only )
You can consider the private open air bath if you are reluctant to enter the public bath.
You can enjoy the landscape and feel the wind while taking a bath.
The private open air bath needs to be reserved per 50 minutes.
You can use the private open-air bath between 15:00-22:00.
Please do not wash your body in the bathtub.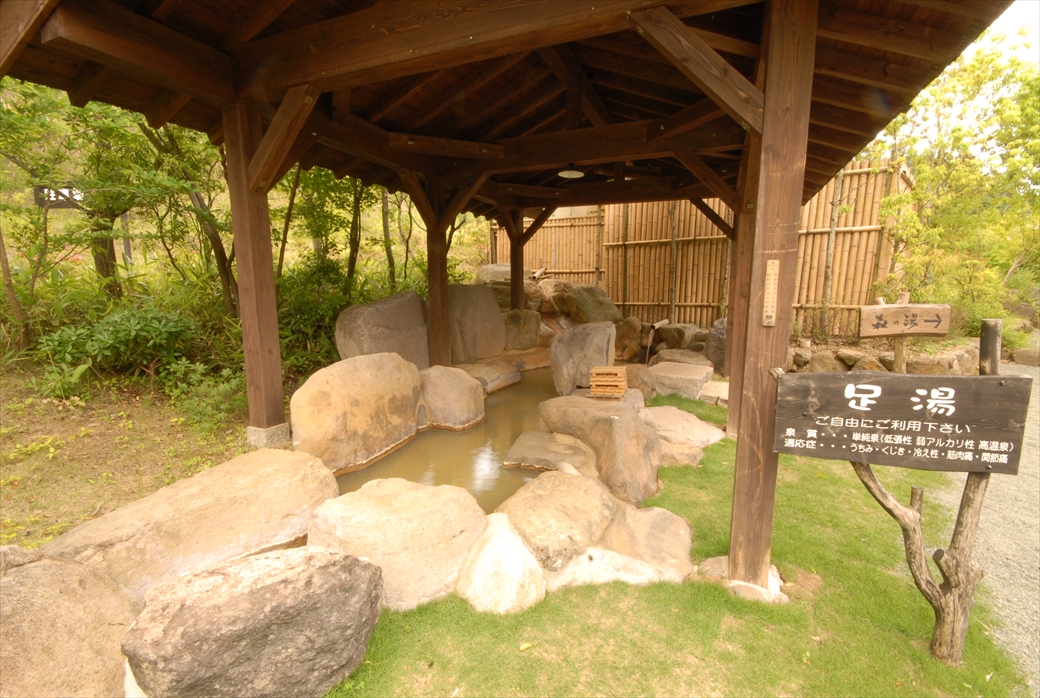 Footbath
Footbath is located near the entrance. It is available to everyone but not just staying guests.
It is convenient to wait for day trip bathing.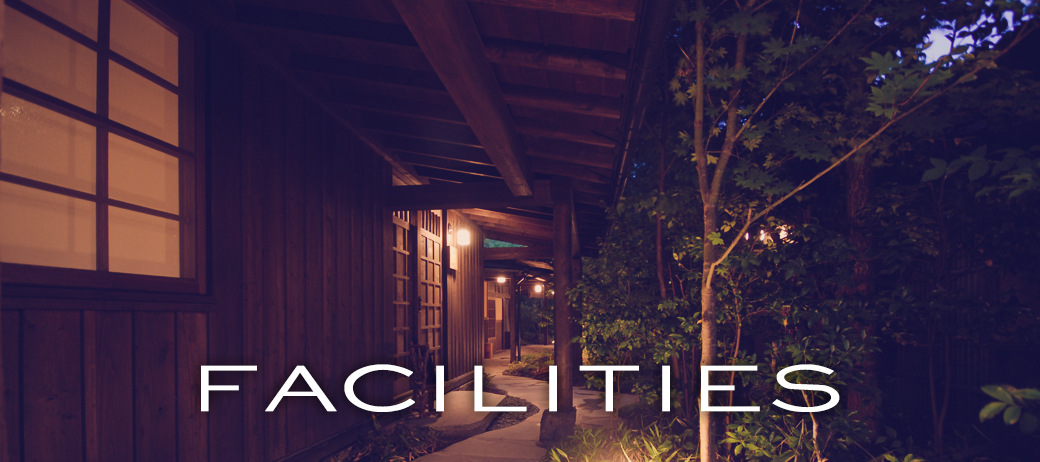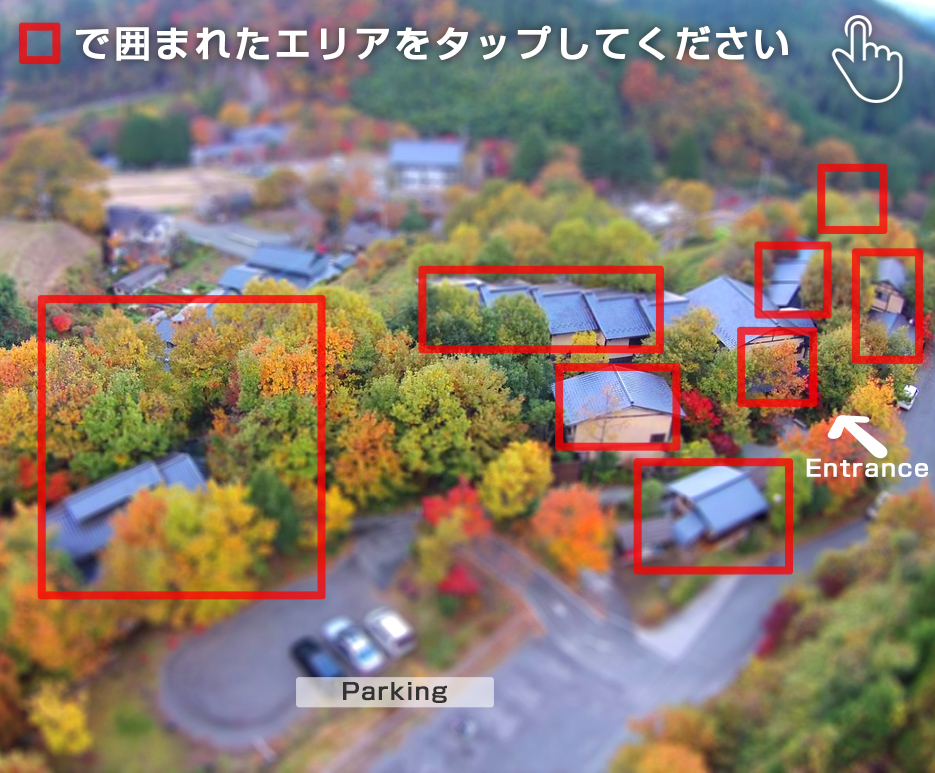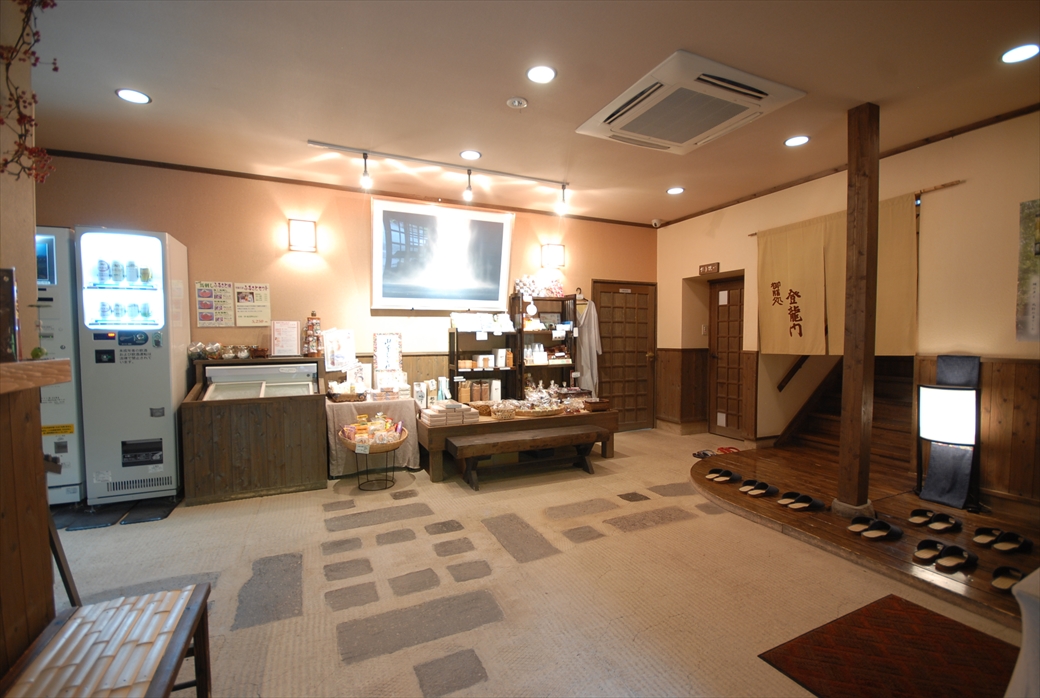 The front desk
In here, you can check-in and check-out, and make a private bath reservation.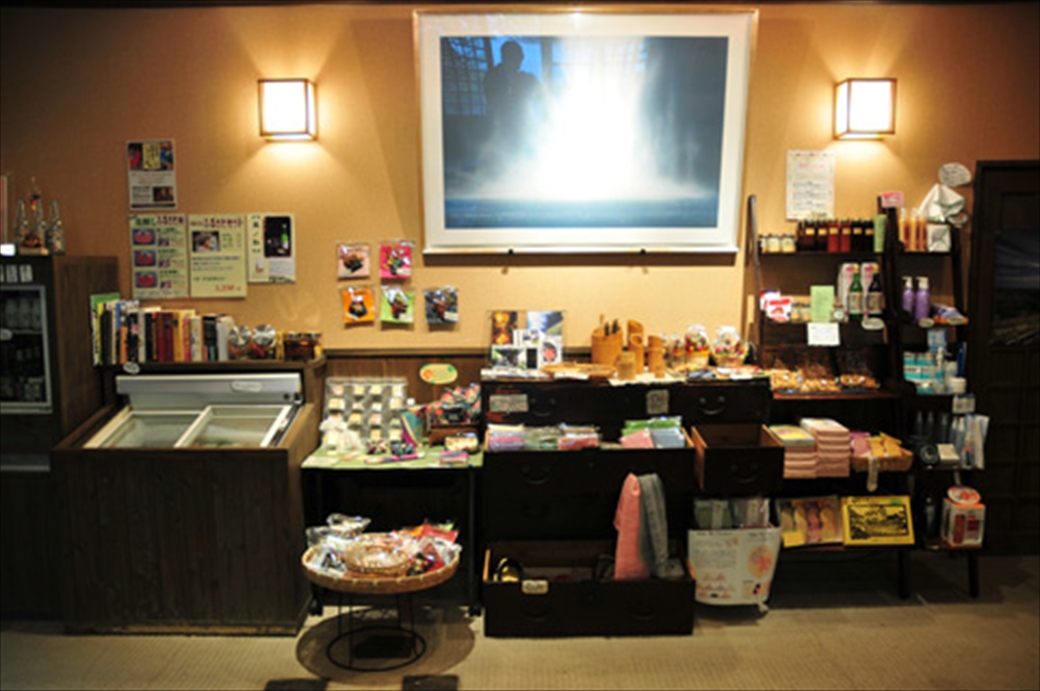 Souvenir corner
We will prepare souvenirs of the local Kumamoto and its neighboring areas.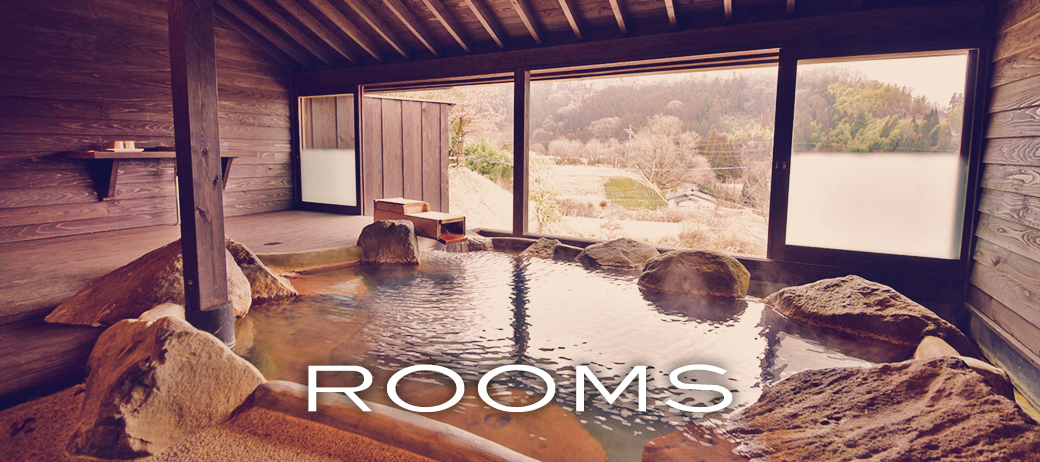 All rooms have 100% free flowing hot spring open-air bath.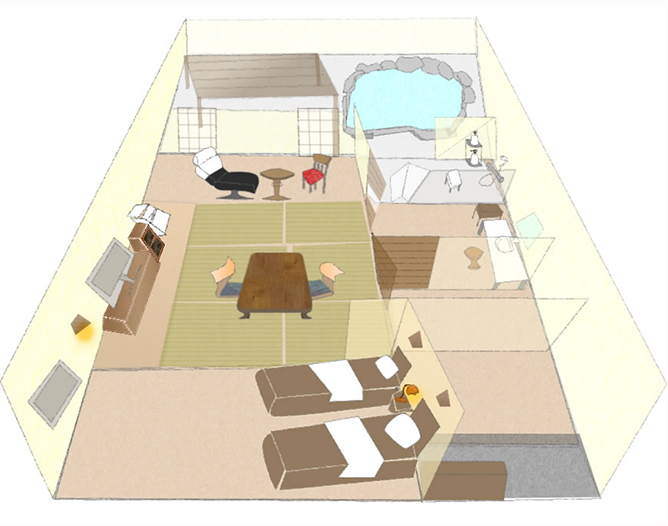 One story Type
The rooms of the one-story type includes open-air bath and shower room. Scenery seen from open-air bath is better because the bath is located on a hill.
This room is a typical Japanese-style room in a serene surroundings.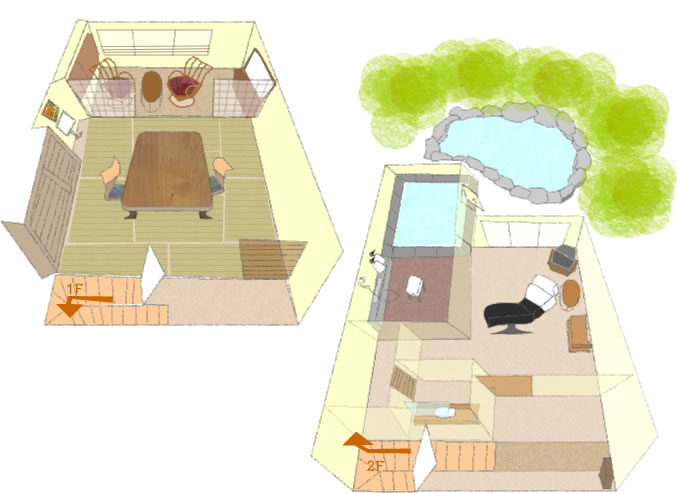 Maisonette type
The first floor is a wooden floor. There is an open-air bath with nice views, indoor bath, wash basin, and a toilet.
The second floor is a Japanese-style room. Futon is prepared here.On a clear day you can see the outer rim of Aso.
One story Type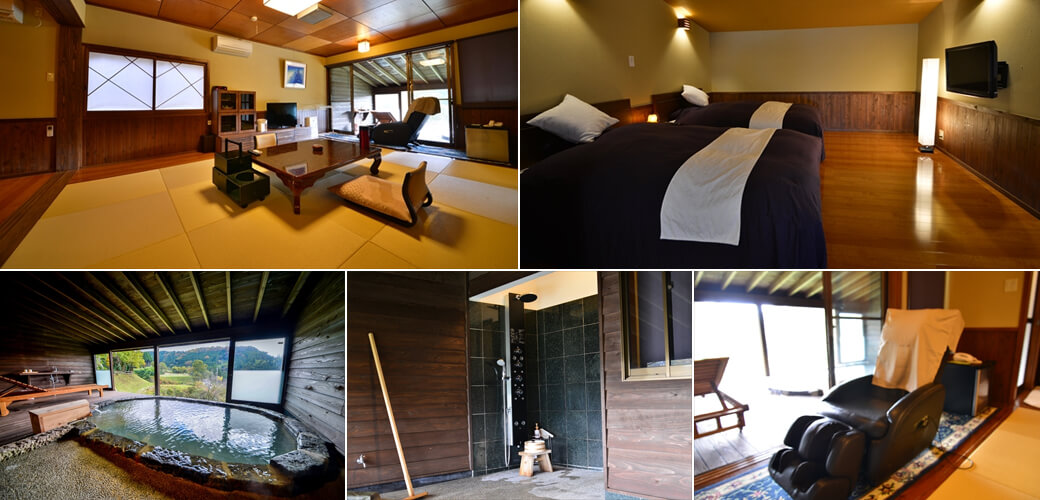 | | |
| --- | --- |
| Accomodation arrangement | 10J + Hiroen (Veranda) + Open Air Bath + Shower room + Shower toilet |
| Capacity | 2-5 people |
Maisonette type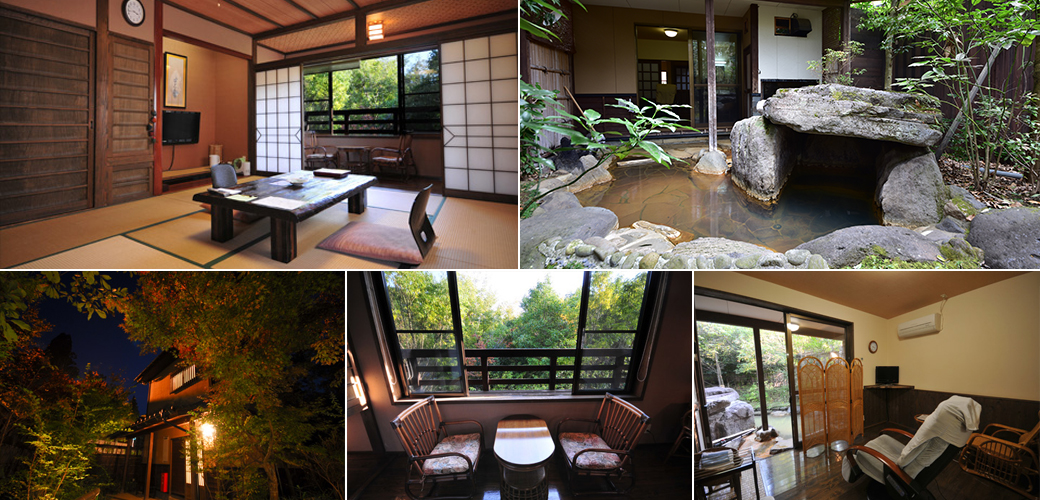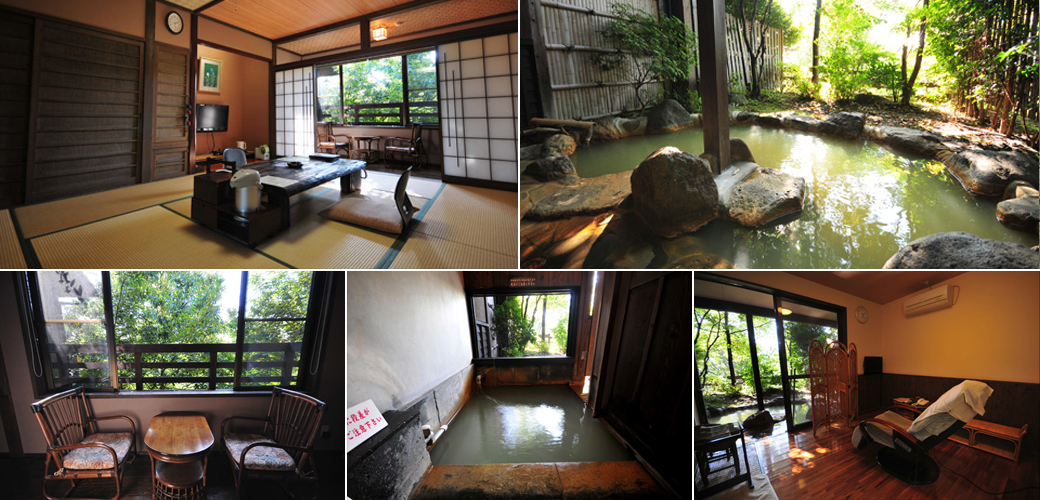 | | |
| --- | --- |
| Accomodation arrangement | 10J + Hiroen (Veranda) + Living room + Open Air Bath + Indoor bath + Shower room + Shower toilet |
| Capacity | 2-5 people |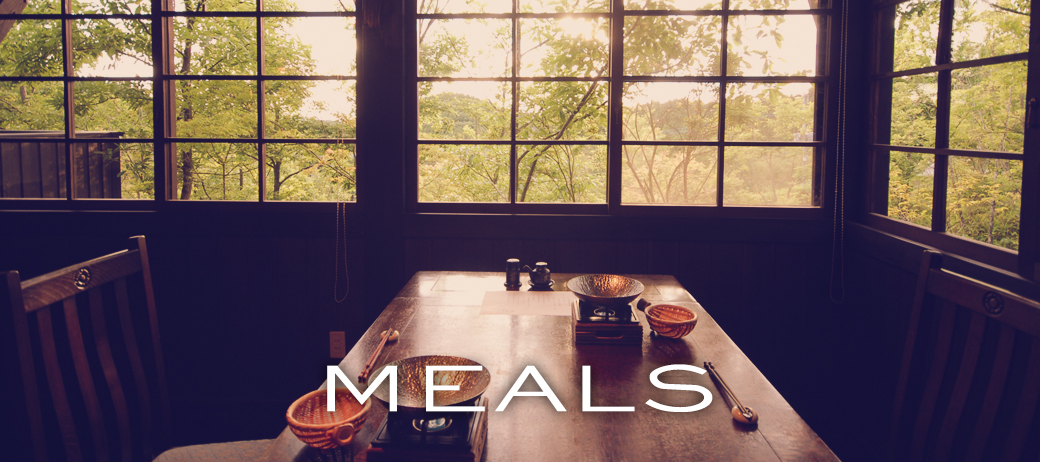 As a general rule, dinner and breakfast are included.
We'll serve a meal at the restaurant.
It's a Japanese course menu with cuisine made by carefully selected local ingredients.
Dinner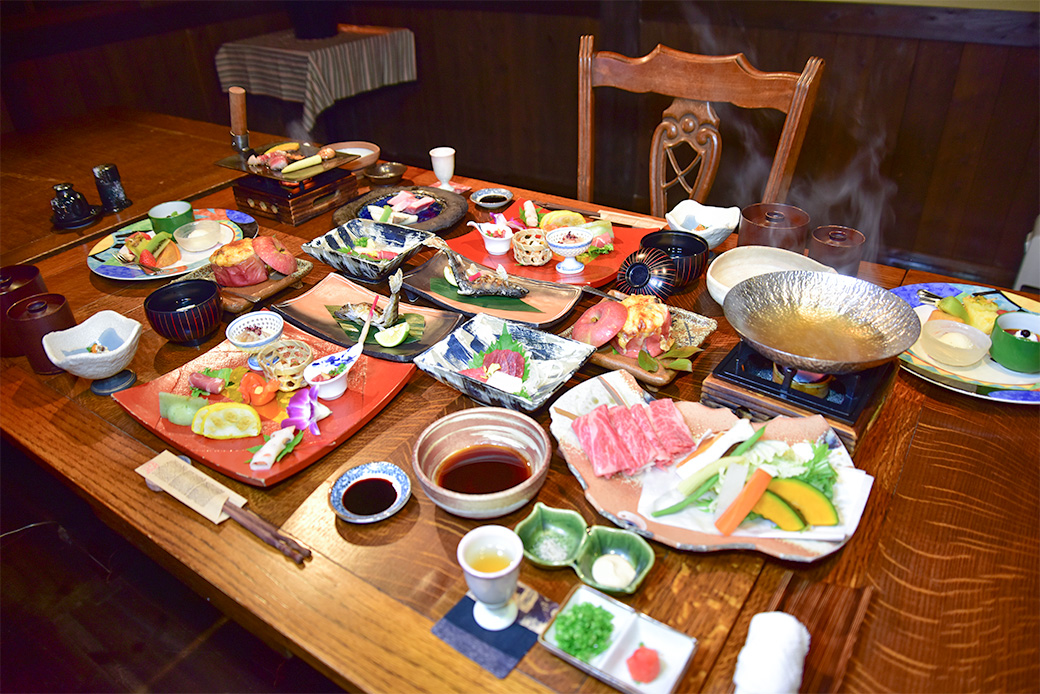 Fresh Japanese cuisine
One evening's dinner.
Okami has to examine the ingredients to stick to local production for local consumption.
Then it is served a cuisine made with carefully selected ingredients.
Breakfast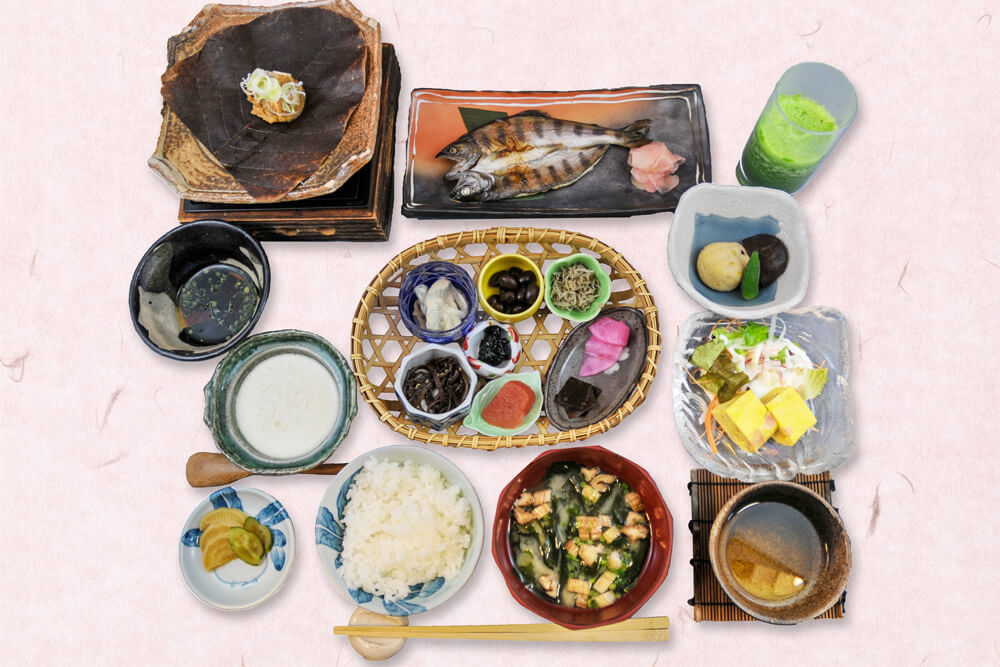 Breakfast will be in Japanese Zen.
One morning's breakfast.
salmon, omelet, nimono (simmered food), dried seaweed, salad, tofu, rice, miso soup, pickles, orange, yogurt.

Drinks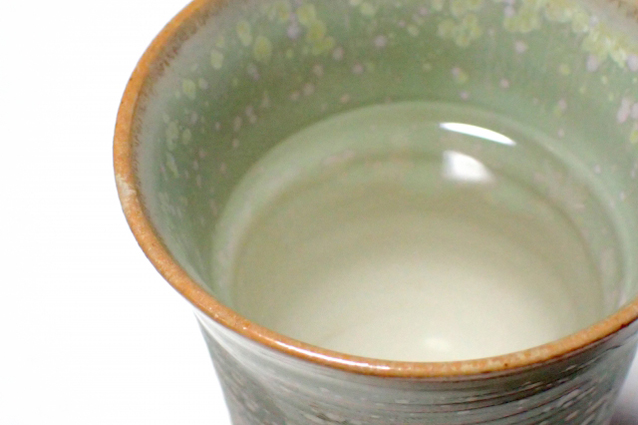 Sake
Sake is a Japanese rice wine.
It has been enjoyed in Japan for a long time.
You can drink it hot or cold.
Its alcohol content is about 15%.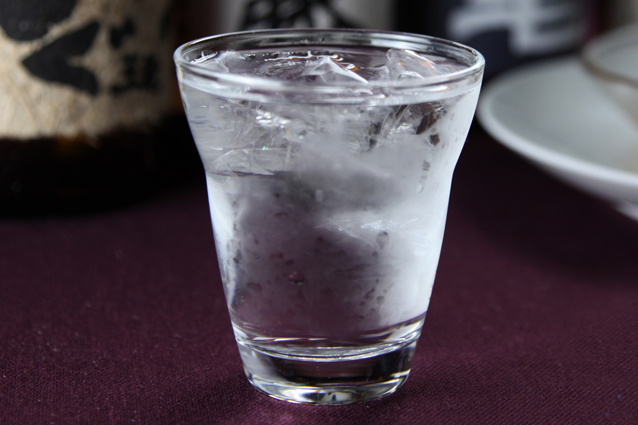 Shochu
Shochu is a Japanese vodka made from rice, barley, or sweet potato.
Sake is fermented, but shochu is distilled.
Shochu has an alcohol content of about 25 to 45%.
You can drink barley and sweet potato shochu made from hot spring water at our hotel.
It is normally mixed with hot or cold water.
Restaurant
There are two dining places.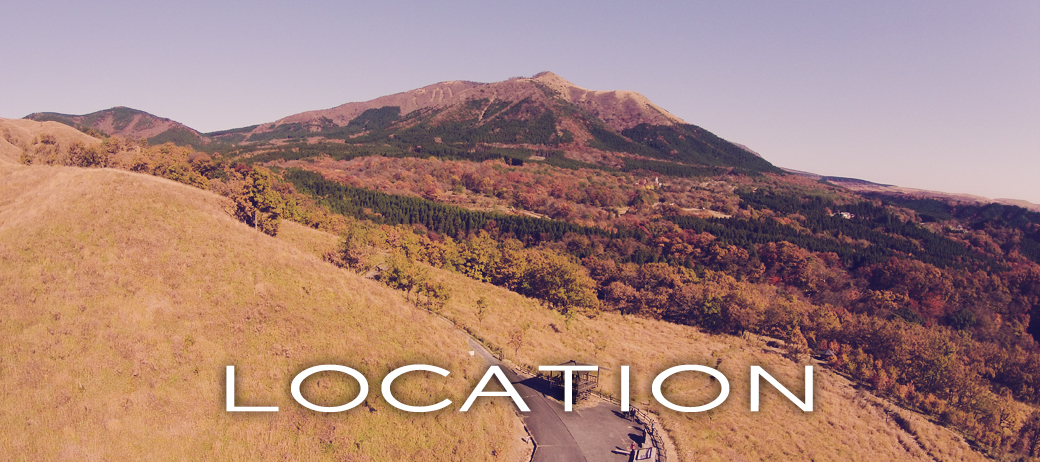 An introduction of the neighborhood.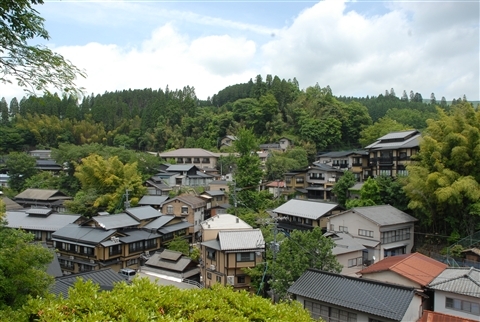 Kurokawa Onsen
Here is a popular hot spring resort in Japan.
It is located in the valley along the Tanoharu river. Small Ryokan are built next to each other in the spa town.
Buildings of unified appearance with mud walls and Kawara* roof lined together. Coupled with the surrounding countryside, the atmosphere is like "Japan of the countryside". * Kawara is a kind of japanese Clay Roofing Tile.
Regardless of the day of the week, the feature of this town is the figure that many tourists swagger.
---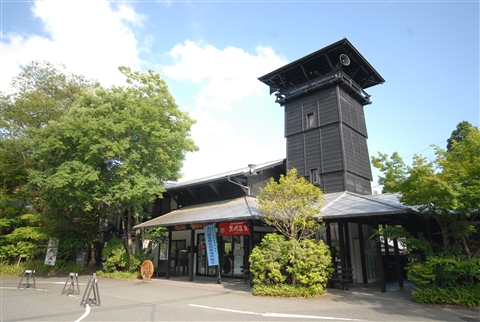 Kurokawa Onsen General Information Center
「Kazenoya」
It is a general information center which is located in the center of the Kurokawa onsen. There is also a car park and public toilets.

We provide information on the room vacancies of the day, directions, and facility guidance. We sell Onsen tickets, "Mugwort shampoo, rinse, and body soap" which are used in Kurokawa Onsen Central, and also towels. We also distribute the Kurokawa Onsen map and brochure of each ryokan.

Opening hours on weekdays 9:00 ~ 18:00; Saturday, Sunday and the day before public holidays 9:00 ~ 19:00.
---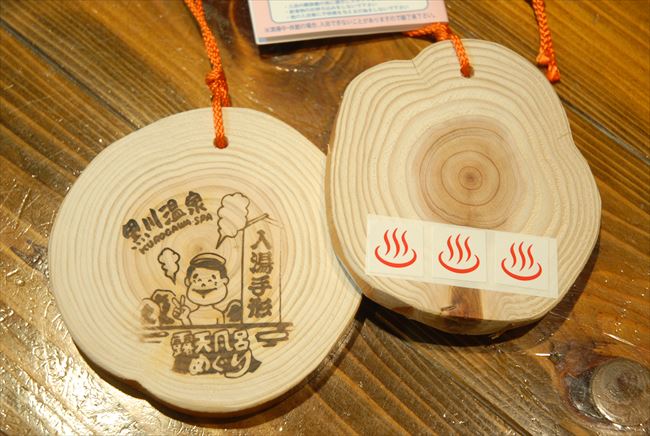 Onsen ticket(Nyuu-tou Tegata)
After you have purchased an Onsen ticket, you can enjoy the three ryokan's open-air bath. It is valid within six months. It costs 1200 Japanese yen.

Kurokawa Onsen Union is holding a variety of events to give away certificates, Kurokawa Onsen's items and accommodation auxiliary ticket.

■ Introduction of the Onsen ticket
Onsen tickets make use of thinnings of "Oguni cedar". They are made by the people of the elderly club.

The issuance of the Onsen ticket is around 12 to 200,000 copies a year. Its sales have been used in such as the street maintenance in Kurokawa Onsen, introduction of common leather soled sandals and umbrella, environmentally friendly soap and shampoo.

Through the issuance of this Onsen ticket, the cohesiveness in Kurokawa Onsen becomes strong.
---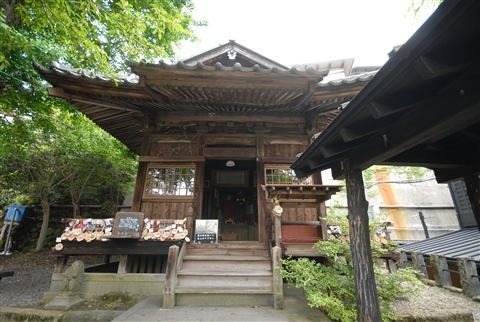 Jizou-Dou
Jizou-Dou is located in the center of the Kurokawa Onsen.
Children of Kurokawa Onsen grew up listening to the story of Jizou-Dou.
The story has been written at the entrance of Jizou-Dou.
Nyuu-tou Tegata has Ema printed on them. Ema is a wooden votive tablet.
---
Jizou-Yu
Jizou-Yu is located in the opposite way of the Jizou-Dou.
Jizou-Yu is a public bathhouse of residents who live in Kurokawa Onsen. Within them there exists a "good traditional open relationship" of the locals from children to the elderly. Bathing fee is 200 yen.
---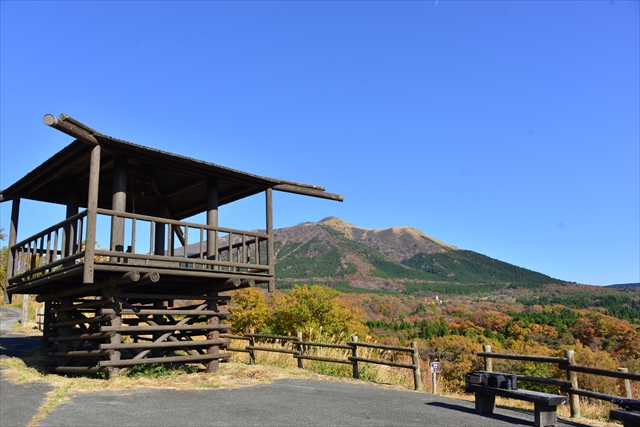 Koibitotachino-Oka(Lover's Hill)
"Hiranodai plateau viewing platform" is commonly called "Lover's Hill." It is located a little bit away from the Kurokawa Onsen town.

Scenery has spread to from Kuju mountain range to Aso. This place has been selected as the "Lovers' Holy Land".

■ Car parks available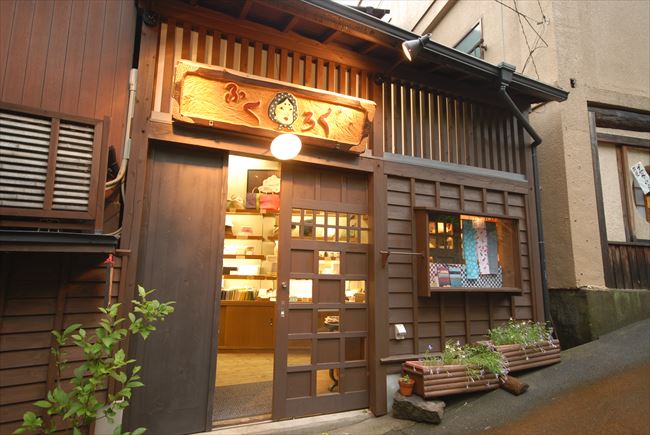 Sundries shop Fukuroku
The main products are towels of unique colors and patterns ,Kurokawa Onsen original Tenugui, and handmade soap. Small goods of old cloth and hemp fabrics bag are also on sale.

Opening hours 9:00 ~ 18:00
---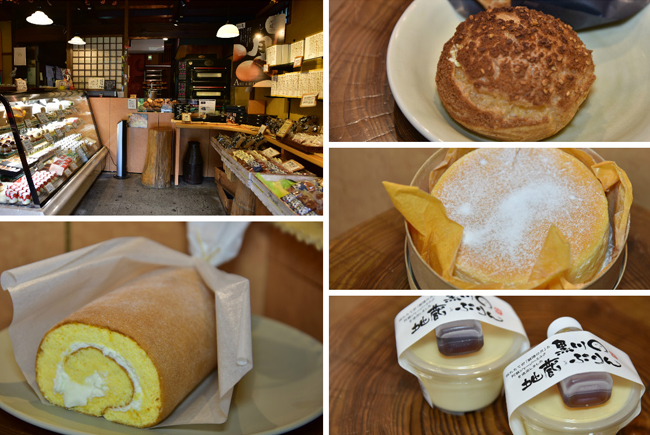 Confectionery shop
"Patisserie Roku"
It is a patisserie that you may want to go in between hot springs and shopping.
If you go down Igo-zaka, you can smell the drifting aroma of baked goods.

Opening hours 9:00 ~ 18:00
---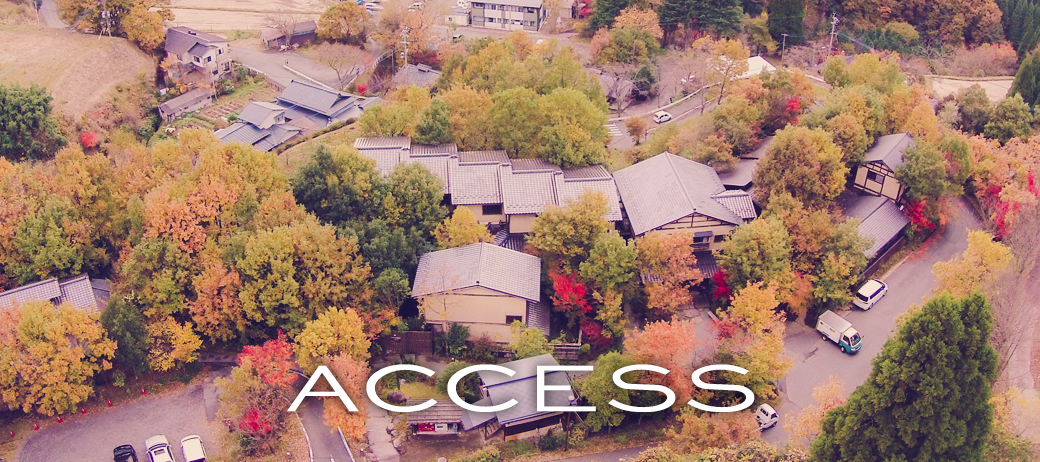 In the case of car(Access time)
From Fukuoka CityAbout 2h and 30m
From Kita-Kyushu CityAbout 3h
From Hita ICAbout 1h
From Kumamoto ICAbout 1h
From Oita CityAbout 1h 30m
From Yuhuin ICAbout 1h 10m

Kurokawa Onsen is located in "Kumamoto". Kumamoto is located in the southern part of Japan "Kyushu". Kurokawa Onsen often snows in winter because it is located on highlands. Please prepare for the snow and freezing such as using chains and studless tires.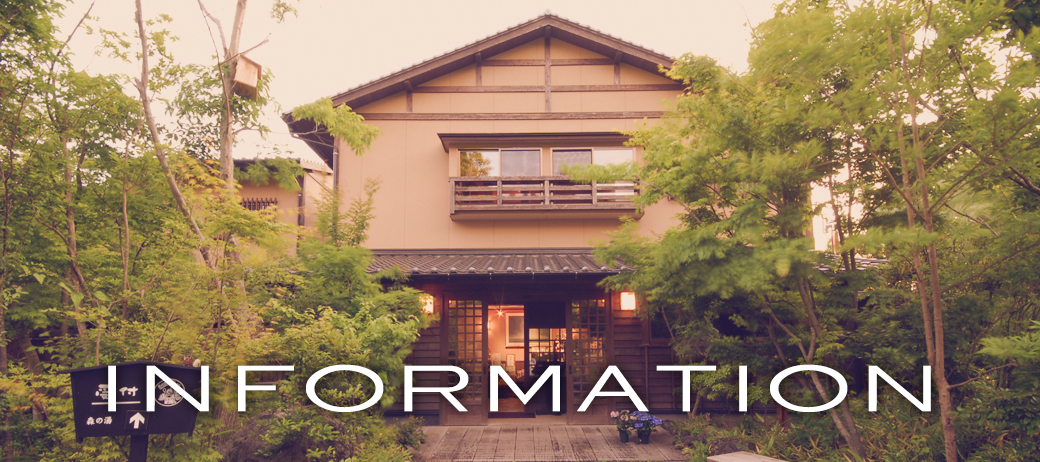 Accommodation facilities & more details
| | |
| --- | --- |
| Internet access | No |
| Internet connection charges | No |
| Pets Allowed | No |
| Onsen hot springs on accommodation | Yes |
Charges
Service & tax

Service charge included, tax excluded (consumption tax & bathing tax 150 yen) Price of 1 adult


※ New Year, Obon ,seasonal periods such as the GW may be subjected to a different price.

Most common charge style
Room with breakfast included (per person)
Room with evening meal and breakfast included (per person)
Cancellation
※Cancellation fee
1 week prior: 30% of the room rate
1 day prior: 50% of the room rate
Accomodation day: 100%
Payment
Cash,Credit Card

ATM


Use international cash cards and credit cards to withdraw Japanese yen!

Family Mart (e-net ATMs)

Address : Azasugita1786-1, Akababa, Minamioguni-machi Aso-gun, Kumamoto, 869-2401, Japan
GoogleMap
Contact
| | |
| --- | --- |
| Name of accommodation | Ryokan Kono-Yu |
| Area | Kurokawa Onsen(Kumamoto) |
| Address | 6784, Manganji, Minamioguni-machi Aso-gun, Kumamoto, 869-2402, Japan |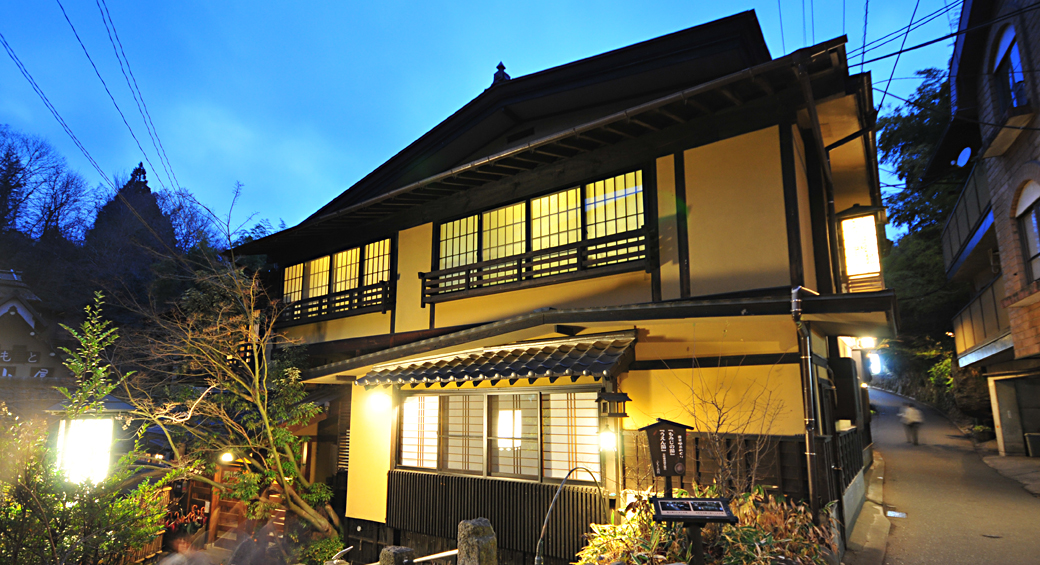 Sister Ryokan "Fumoto Ryokan"

姉妹館

ふもと旅館

This ryokan is located in the center of the Kurokawa hot spring.
You can enjoy different hot springs within the ryokan.

The many kinds of private baths and open-air baths all use 100% Fresh Hot Spring Water.

The price of this ryokan is reasonable, and so it is supported by the guests of all ages.